We offer you a Bible app that includes the text of the Bible accepted by the Catholic Church. It consists of 73 books instead of the 66 books of the Protestant Bibles. The deuterocanonical books are included: Tobias, Judith, Wisdom, Ecclesiasticus, Baruch, 1 and 2 Maccabees.
Today you can have the text of the Catholic Bible on your phone for easy access and quick reference. Indeed, you no longer need a pocket Bible or that giant book. Enjoy your Bible copy on your phone, everywhere you go.
It will be one of the better companion Bible apps that you have found!
It´s completely free and offline
The app gives you offline access so you can read or listen to the Bible anywhere.
In this app, there is both an audio version of the Bible and the text to read. You can listen to the verses on your phone.
It comes with a whole bunch of features:
Ability to take notes
Search by keywords
You can highlight you favorite verses
You can also make a list of favorites
You can change font if you want a different size
Additionally, you can change to night mode to protect your eyes
The app remember the last verse read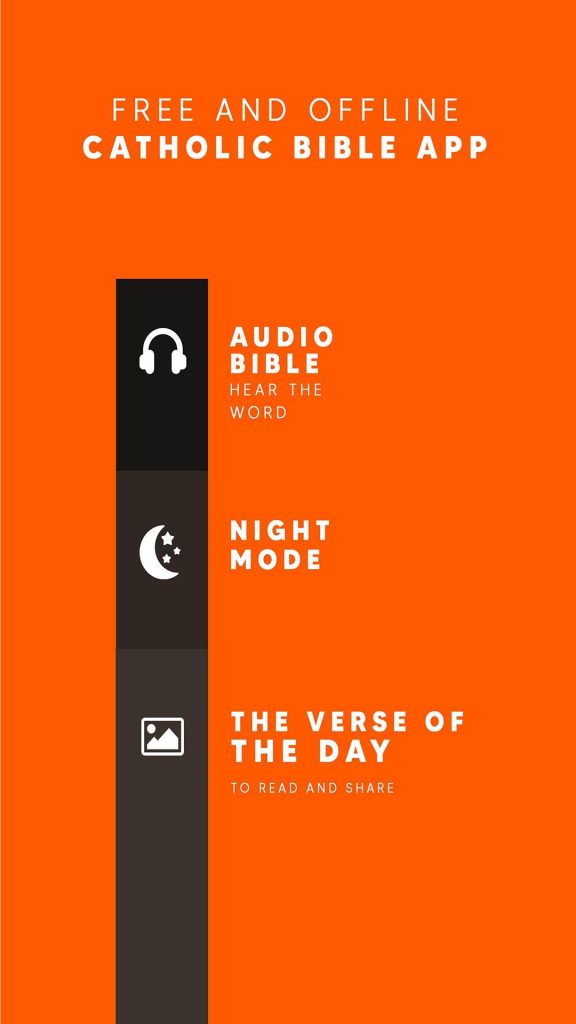 Some other options include:
Verse of the day: The app sends you a different verse every day so you have something to read up about.
You can make images with verses to post on social media
Additionally, you can share verses directly on Facebok, Twitter and other social networks or send them to friends and family by email or WhatsApp
Choose a book from the Catholic canon:
Old Testament:
Genesis, Exodus, Leviticus, Numbers, Deuteronomy, Joshua, Judges, Ruth, 1 Samuel, 2 Samuel, 1 Kings, 2 Kings, 1 Chronicles, 2 Chronicles, Ezra, Nehemiah, Esther, Tobit, Judith, 1 Maccabees, 2 Maccabees, Job, Psalms, Proverbs, Ecclesiastes, Song of Solomon, Wisdom, Sirach, Isaiah, Jeremiah, Lamentations, Ezekiel, Daniel, Hosea, Joel, Amos, Obadiah, Jonah, Micah, Nahum, Habakkuk, Zephaniah, Haggai, Zechariah, Malachi.
New Testament:
Matthew, Mark, Luke, John, Act, Romans, 1 Corinthians, 2 Corinthians, Galatians, Ephesians, Philippians, Colossians, 1 Thessalonians, 2 Thessalonians, 1 Timothy, 2 Timothy, Titus, Philemon, Hebrews, James, 1 Peter, 2 Peter, 1 John, 2 John, 3 John, Jude, Revelation